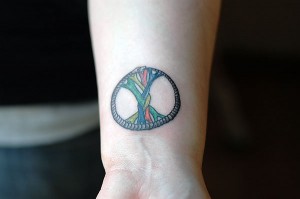 (both pictures in this post taken the day I got my tattoo, so it's all red and swollen. March 2009)
The last few days have been a variety of up very high (so excited to finally have a .com), and very low (money mostly).
And as I lay in bed a few nights ago, thinking about how no more than a few weeks ago I was talking about looking closer at my life and seeing how great things actually are. As I was thinking about that I was at a pretty low point.
I also had tattoos on my mind. My good friend Kim just got a new tattoo (so jealous! plus, it's beautiful.) And my sister and I are scheming to get matching tats asap! So naturally…I thought about my current one.
When I first got it, I wrote a long post about what all the symbolism is on my other blog (that poor thing is so neglected).
As I sat thinking about the patterns in my life (okay, not really patterns. It's a random up and down, it's a damn roller coaster folks!), I thought about what's ahead of me.
I am leaving a lot of things behind soon. As I prepare by packing up my life into a ton of boxes again, I prepare to leave Boston. With leaving it means, I am not going back to college next year and I'm leaving my dream behind. I am leaving behind living life alone. I'm also leaving behind bad habits, and the pain and hurt I've felt in this place. It is the end of so many things.
But just as life brings death and death brings life, as in my Ouroboros…endings bring beginnings.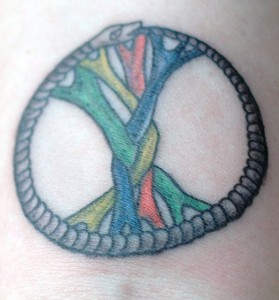 I am nervous as all hell to leave some of these things behind. I am nervous of finally moving in with my boyfriend (I have to live with a boy?! Never done it before. Anyone remember Friends when Monica and Chandler moved in together? ha….anyways?), I am scared that I'm leaving school, I'm scared that I'm without a dream. I'm even scared of letting go of my bad habits.
But…endings bring new beginnings.
I feel I am in for a curve ball here.
I'm not really sure what to expect with my new life yet. I have a lot of plans, a lot of hopes and a few doubts.
But I know that if I have a bad day, I just need to take a deep breath…look at my Ouroboros and remind myself of new beginnings, of the cyclical nature of the universe and that life needs to sustain it's self with death.
Creation out of destruction.
Do you ever need a reminder of these things? What are you experiences with endings and beginnings? I'll be posting more about my new journey as I go, so go ahead and share yours too 🙂