I try not to write extremely "business-y" posts on here because it's just not my style. I want to keep this page helpful for you but there's some major things happening in the small business world right now that will majorly change how many people do business, including myself.
Due to upcoming tax changes, I'll be taking down all e-books and workbooks that are for sale on January 1st, 2015. If you haven't heard of the tax changes, check out this article and sign the petition to help out.

I'm not exactly sure where my business will be going in the new year and that's both scary and fun in some ways. I'm still doing research on the VAT to try to figure out what I can and can't do and what will be feasible for me as a small business. I'll be sure to keep you updated as changes to my business (and the taxes) change. In the mean time….
What does that mean for you?
That means, if you want one of my e-books or workbooks, you need to buy it by December 31st, 2014!
Everything is now 14% off through December 31st as well!
To get the discount all you have to do is click the correct "buy now" button on this page. (note: discount will not work if buying through sales pages for individual e-books)
What's available?
(when purchasing, please be sure you wait for the final page to load. You will be taken to a list sign up to enter your name and email or you will not receive your download!)
Intro to Journaling For Your Wellness E-Book
This e-book is based off my free workshop with extra content added. I won't be running the workshop again until at least Spring (if at all) so get this while you can!

Explore your self discovery, start a journal practice and learn how to journal to improve your emotional and mental wellness with this e-book based off my wildly popular free workshop!
The Intro to Journaling For Your Wellness E-book includes:
-10 prompts
-2 art techniques
-10 articles about journaling
-access to the private online group
I am a strong believer in writing and journaling and making art as a huge aid in your wellness journey.
(get more details here)
Now on sale for only $13.76usd (discount only available by the button below)
Creating Your Identity as a New Mama
My audio and e-book is a personal account and guide for new mamas about finding and creating their new identity as a woman without the dreaded mama guilt.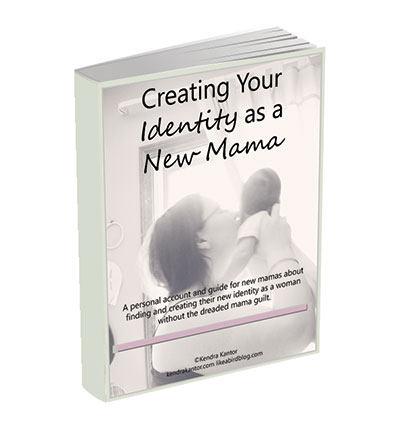 When suffering from mental health problems, either preexisting or postpartum, life with a new baby becomes even harder, but learning who you want to be and focusing on you is the key to a healthy mama and baby.
By the end of this guide, you will…
-have actionable steps to take to focus on your identity
-feel less alone in this whole new mama role
-have had some alone time and self care time away from your baby for a while to take a breather.
-be ready to tackle finding your new identity.
Get more details here.
Now on sale for only $22.36usd (discount only available by the button below)
Dear Self – Signed + One of a Kind artwork
Enter the mind of artist and mother, Kendra, who lives with mental illnesses in this illustrated series, "Dear Self: A Collection of Poems and Art".
Written over a number of years, these works served as personal reminders, notes, daily observations as well as affirmations. The words and images in this collection of 30 poems and art, show the journey of growth, courage, self discovery and honesty.
This collection of 30 poems and illustrations is a culmination of years of work and I am proud to be sharing it now. In November of 2013, I began work in a journal, creating poems, notes and words of wisdom written to myself. For the first time in years, or probably ever, I was making art and writing just for myself. I was creating with no intention of sharing my work everyday. I wasn't creating for the praise of anyone but myself. It felt good and I was filled with freedom.
You'll receive…
-The Dear Self poetry book, signed by me (include your name and I'll personalize it!)
-A one of a kind 5×7 artwork, made just for you, in a similar style to the pages in Dear Self
Get more details here.
Now on sale for only $43usd (discount only available by the button below)

PS: This VAT news does not effect my art prints or any of my freebies.